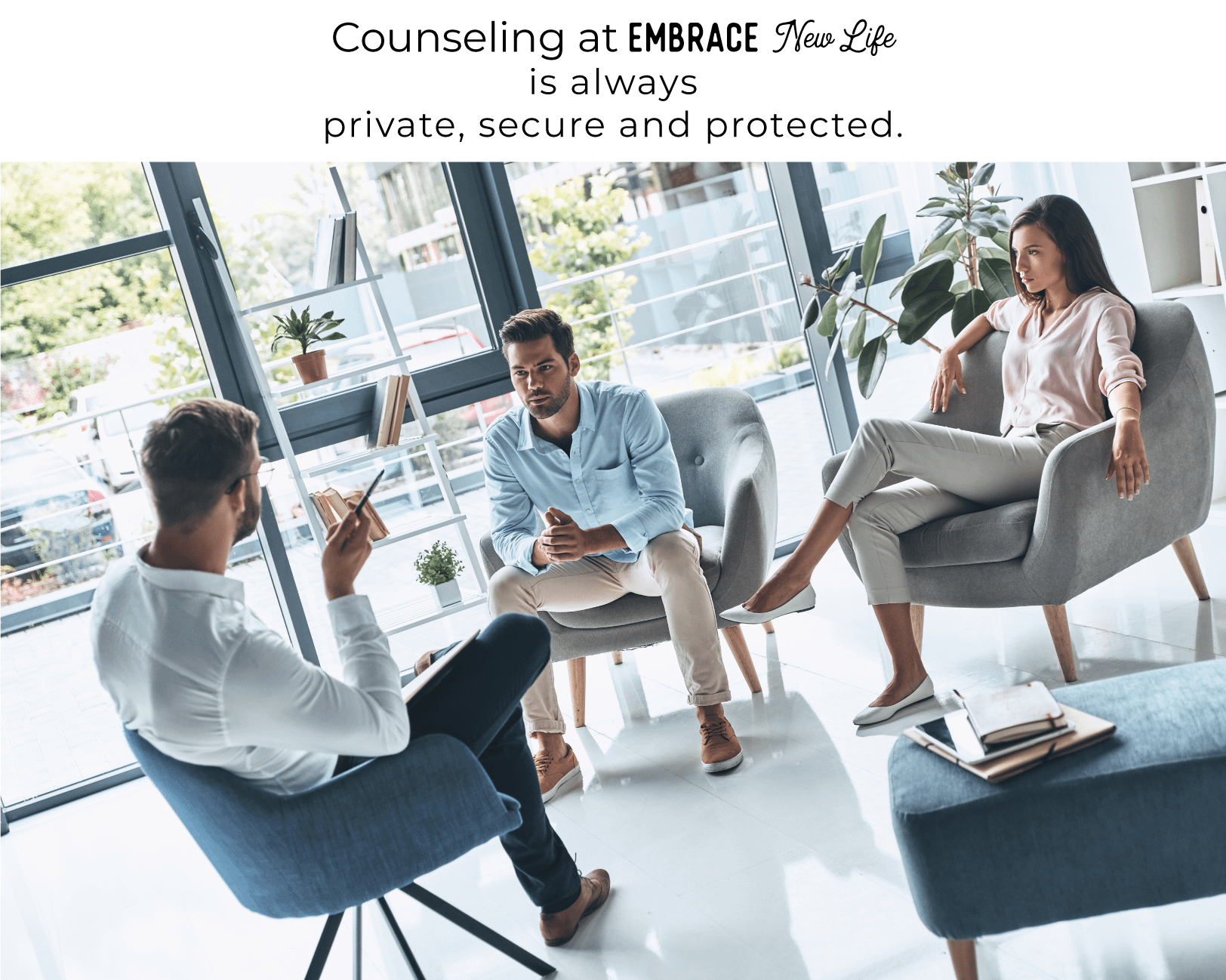 Getting Started at Embrace New Life / Counseling & Wellness
Are Embrace New Life counselors on my insurance plan?
Finding the right therapist can be a very hard endeavor. Finding the right therapist on a specific insurance plan can be even harder. Over the years we have found that managed care insurance plans can often create more problems than solutions for our clients. Confidentiality is threatened, fees are controlled by the insurance agencies, and healing is delayed. At times particular plans do not allow for the best therapeutic interventions, limiting the much-needed help that a client is seeking and dictating the entire process of counseling. All of this happens at the expense of the client. Therefore, though we work to see that our clients are reimbursed by their insurance carriers, we have decided that staying away from the control of managed care is best for our clients and clinicians.
How long is a session and how often will I meet with a counselor?
An average individual session lasts 50 minutes. The frequency of sessions and length of treatment depends on the goals established in therapy, severity of the issues, and the client's willingness to actively participate. You and your counselor will determine together the frequency and length of treatment.
Will my insurance cover counseling costs?
We recommend that you call your insurance company and ask about your out-of-network mental health benefits. By calling the 1-800 number on the back of your insurance card, your insurance representative can assist you. At the end of your session with your therapist you will receive a receipt with the necessary information for you to file directly with your insurance company. Some of our clients choose to file for reimbursement using their out-of-network benefits and others prefer not to submit their claims for privacy reasons. Some use the Reimbursify app described below to automate the out-of-network reimbursement process. Your therapist will work with you regarding any necessary documentation needed by your provider. Please note that payment is due at the time service is provided.
What if I have to cancel my counseling session?
There is no charge for any session cancelled with at least 24-hour notice prior to the scheduled appointment. Sessions cancelled with less than 24-hour notice will be assessed the full fee. We understand that unforeseen events can happen. Please text us at 972.292.7092 as soon as you are aware that an appointment will be missed.
What if I do not have insurance?
In today's economic climate, we understand that most people have a tight budget. At the same time we want people to get the help they need. Embrace New Life Counseling & Wellness rates are in the lower range in the communities we serve.
How do I get started?
You can click 'Make an Appointment' or you can call or text our Intake Specialist at 972.292.7092 with questions. We will match you with a counselor who best meets your needs.
What should I expect for my first visit to Embrace New Life?
If you are attending your first appointment, please plan to arrive 10 minutes early and be sure to have completed your online forms in the client portal. Counselors are required by law to have these completed prior to first session. Text us at 972.292.7092 if you have questions.
For more information on the Reimbursify app – click here!