We care about what is most important to you –
your marriage, your children, & your well-being. Our counselors & coaches are hand-selected because they are the best at what they do – EXPERT & CONFIDENTIAL Family therapy, Couples therapy, Teen therapy, Play therapy, EMDR Trauma therapy, coaching, workshops, classes & more. Why Us? We provide holistic care in a home-like setting. We are Family-trusted! We always protect your privacy and are preferred by Pediatricians, Physicians, First Responders & Professional families. We offer EN/ES bilingual care. אכפת לנו ממך!¡Nos preocupamos por usted! Seni önemsiyoruz! Ci teniamo a te! ഞങ്ങൾ നിങ്ങളെ ശ്രദ്ധിക്കുന്നു!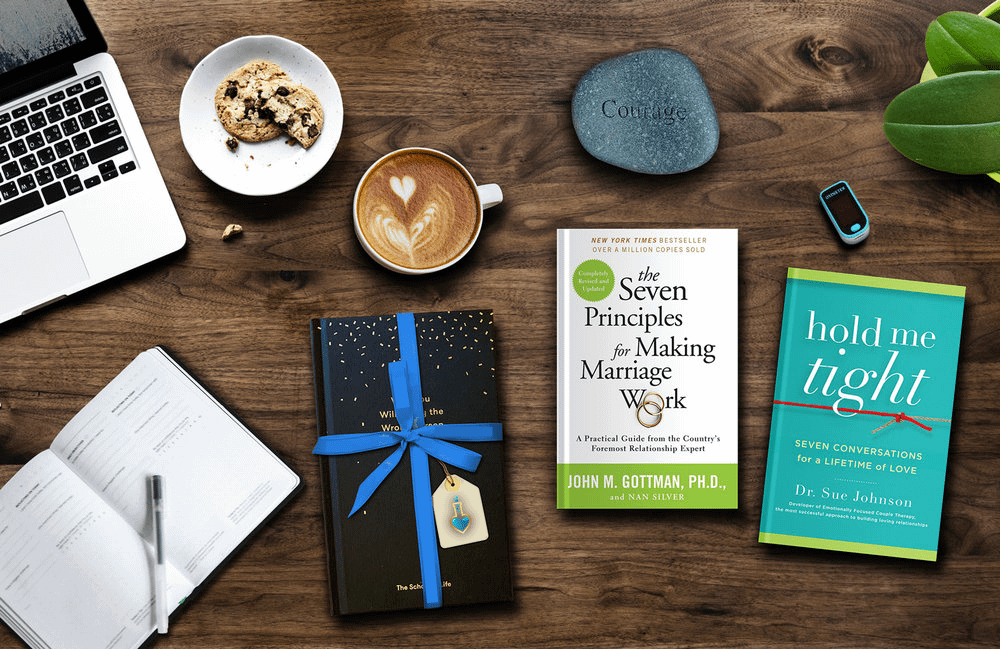 Research-based Models


Gain Tools to Improve Your Relationship
We curate the best in our field (across the Gottman Method, Emotionally Focused Therapy, Pragmatic Experiential Couples Therapy, P.A.C.T. and Discernment Counseling). Put simply, whatever you're going through, we know ways to help.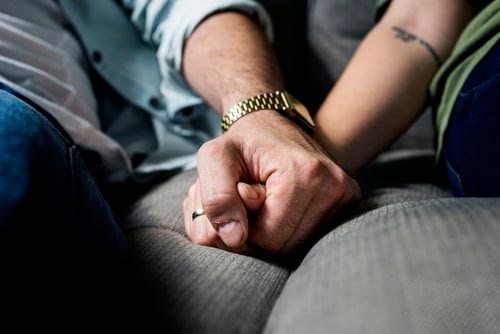 Focused on Couples & Families


Work with an Expert Who's Seen it All
We primarily see couples. We live and breathe this and have seen it all. We offer Couples Counseling & Marriage Therapy sessions for ongoing growth and support. And our Intensives distill decades of expertise into a game-­changing 1 to 3 days.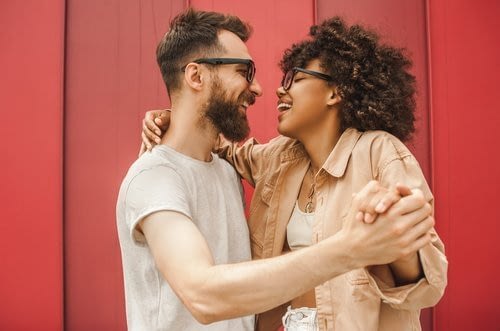 2 Hour to Multi-Day


Get Farther Faster
Embrace New Life is for couples that want to leave no stone unturned. Our shortest sessions are 50 minutes but as we go deep to truly understand the core issue. 2-hour sessions are the norm. We teach tangible tools to grow and repair together.  We offer Marriage Counseling Intensives tailored to your needs & schedule.
If you want to
REPAIR
,
we can help!
We help couples RESOLVE CONFLICT,
& HEAL from BETRAYAL.
If you need someone to listen & understand – we are here!
Individual Counseling or
Collaboration with Family System
Adult clients at Embrace New Life choose who they wish to be included in their support system. At Embrace, we encourage, outside of family abuse or toxicity issues, including family members in a client's healing support system when possible. Including a support system is critical for Trauma clients and these may or may not contain family members. Minor clients are treated as part of a family system. While a parent or teen may identify a personal issue, we encourage a systemic approach. It's parents' choice. In situations of complexity or blending, Embrace New Life may recommend our Collaborative Family Treatment Model.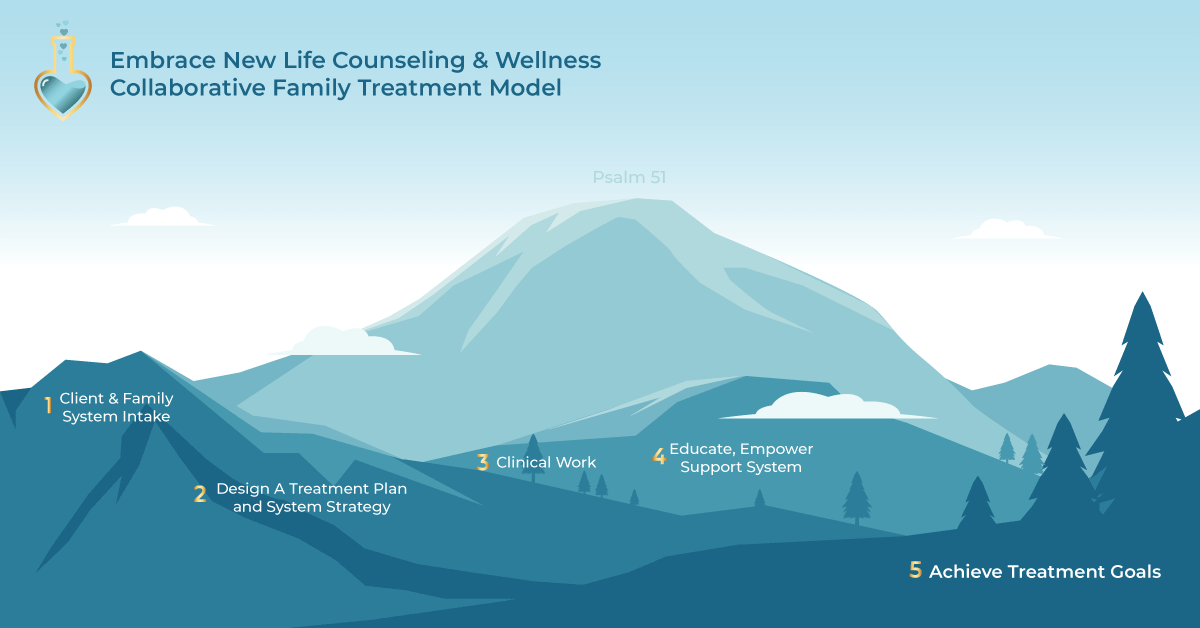 Our robust ENL Collaborate Family Treatment Model (ENL CFTM) is individualized to each client and their unique situation. We believe that healing and recovery takes a village, community, a tribe. We believe that families can be an integral part of healing, and with client's enrollment in the ENL CFTM model, a meaningful process for all.
The ENL CFTM model is a synthesis of the work of Drs. Bateson, Bowen & Bowlby. This model will be open for visiting professionals in Spring 2022. This model also forms a key component of Embrace New Life's Intern / Associate Professional Training Program. ENL is a teaching clinic and has begun beta testing the ENL Training Program for graduate students and residents. We hope to begin enrollment in Fall 2021 semester. If you or your graduate program is interested in Embrace New Life as a field site, please contact Elizabeth Davis, MA, LPC-S or text 972.292.7092. If you are a seasoned, not a newly fully-licensed clinician, that is interested in serving as training staff in the ENL Training Program, reach out and send a resume to: [email protected].
If you are a client or a parent interested in using the ENL CFTM model, you will need to contact Brenda, Intake Specialist at 972.292.7092. We will begin with an intake that consists of the entire system, and a 'reflecting team' of counselors and coaches that will observe the experiential intake and create a system treatment plan. These intakes are comprehensive and require two counselors – an adult and a child specialist. They are 2-hours and the fee is $450 to cover therapists and material fees.
---
Alienation
Alienation of children, parents, grandparents is not endorsed by Embrace New Life. In those situations where there is abuse or toxicity, Embrace New Life absolutely recommends firm boundaries, safety and protection. We will not allow our services to be used or weaponized to alienate any family member when there is the absence of abuse or toxic functioning. We will always recommend safety and firm boundaries – and in extreme situations, a cut off may be needed to ensure safety. As systemic practitioners, we will work to repair when possible.
Boundaries
Embrace New Life endorses the use of boundaries in healthy family systems. However, the severing of relationships (outside abuse or toxic functioning) is in our opinion, a misuse of boundaries. We have worked with families and individuals who were wounded by boundary-setting that allowed for no repair, or the severing of a family bond. Again, outside of abuse or toxic functioning, our only option is to do life with flawed individuals – flawed adult children, parents, grandparents and the like. At Embrace New Life Counseling, we focus on Family Skills Training, Restoration,  Repair, &  Reconciliation!  Our therapists can endure the rigors of family conflict while keeping the therapeutic eye on skills training, restoration, repair and reconciliation.
Call or Text us today if we can help your family!